Jacksons Lane's Nordic Exposure season invites the very best in circus, theatre, and family shows from Finland, Denmark, Sweden, Norway, Iceland, and the Faroe Islands to London. The season spans from March to April, and during that time Jacksons Lane will host a series of shows that give their audiences an insight into Nordic humour, sensibilities, and views of the world.
Finnish circus will be well-represented during the season, with Portmanteau's Piste, piste, piste, Fheel Concepts' Hold On, and the Nordic Council's Three Men from the North.
With Nordic Exposure taking place in just a few weeks, CircusInfo Finland decided to have a chat with Jacksons Lane's Artistic Director and Joint CEO Adrian Berry.
What goes into creating the Nordic Exposure programme? What's your process like?
Well, the season was initially going to be a festival over a shorter period of time but spreading it over two months and having a 'season' instead meant we could programme more work due to more flexible availability of artists and companies. Out of the ten productions, five are coming from overseas and five are based in the UK. This was both a financial decision as well as wanting to highlight the strength of Nordic artists living and working in the UK. 
We began planning the season over three years ago when I met with and gave a presentation to the six embassies in London, and then it was a matter of working with the Finnish Institute, Jaakko Nousiainen the director especially, to work to secure the funding from the Nordic Culture Fund. We moved it to Spring '22 as we felt it would be a safer period, plus our building redevelopment was delayed. The final part of the jigsaw was moving away from purely circus (the original idea) to more contemporary performance generally. We even have a Faroese film night. It appears there aren't any Faroese circus artists!
What kind of qualities do you look for when you plan a Nordic programme for a London audience?
Exactly that word – 'quality'. And work we feel can be attractive to audiences. Also diversity of artform, contemporary dance from Sweden and Norway rubbing shoulders with the Moomins. That sums up Nordic Exposure! We also have an amazing exhibition of aerial drone photography from Sami Kero. I think we have every artform covered.
Do you have certain themes, issues or the like that you want to introduce or shed light on with the help of this year's programme?
That would have limited us and been too prescriptive, but now I look I realise that much of the work is non-verbal. Politically a new theatre work from Iceland (Them) is female-led and addresses the Me Too movement, but other than that not really no. Unless the Moomins show addresses neo-liberalism and the rise of capitalism. Probably does actually, Tove Jansson is known for her subtext and political content, no joke. She was a political cartoonist from the age of 15 and the Moomins became a symbol of anti-fascism and social justice. I'm deadly serious.
You've brought Finnish and Nordic performances to Jacksons Lane for years now. How have these performances been received in London, is there a big audience for them? Is there anything particular in Finnish or Nordic works that London audiences pay attention to?
​​Yes, we did an analysis a couple of years ago and found not only has the audience for Finnish work (especially) grown hugely, but that the audiences for the work repeatedly return. Finnish circus can be quite abstract at times but London (and the UK) has warmed to the quirkiness of the content. We of course have had Danish, Swedish, Norwegian and Icelandic circus too, expanding our Nordic 'brand' feels the next step for us.
Besides performances, does the Nordic Exposure programme include other events for artists or audiences?
Yes, the aforementioned exhibition, also Marita Dalsgaard, an artist and producer from the Faroe Islands is flying over to introduce the film nights and hopefully interview a director or two, then we will be having Q and A sessions after certain shows, oh and a launch night for Three Men from the North. If you get a ticket there will be a shot of Salmiakki and maybe a little reindeer to eat! Not a whole one though.
Jacksons Lane was recently renovated. What have been the biggest changes? And could you tell us a little bit about the work you and your colleagues do at Jacksons Lane?
Changes… wow I don't know where to start. A new foyer and café bar, around three times the size of the original, improved theatre, new seats, stage, seating rake, two new circus creation studios, a fully accessible building with a lift… new offices. Two more new studios, a new ramp for wheelchair users, an outdoor terrace, a new entrance…. oh and the building no longer leaks! 
At Jacksons Lane our modestly-sized team work within circus and performance but also have a huge outreach programme, leading social circus for young and old, plus we are the only venue to open on Christmas Day to give an amazing experience to 300 older and disabled people who would normally be alone on this special day.
In terms of the cultural relations between the UK and Finland or other Nordic countries, what do you think is the most important thing to keep in mind?
Brexit Brexit Brexit… that's a whole other interview though. But the determination to keep European relations alive despite the idiotic decision made by half our population and our ridiculous government. We are fighting the challenges daily.
You've visited some Performing HEL showcases in Finland. What is Performing HEL's significance in terms of your own work?
Well I was there a few months ago and managed to programme Portmanteau and Fheel Concepts in Nordic Exposure as a result of the visit. I saw some amazing new work, about 30 performances/pitches. It is vital for me to be there, and in the past I have taken members of my team also. It used to be Cirko festival that was on my agenda but since it ended it is Performing HEL that offers more than circus too. I brought over Kinetic Orchestra a few years ago, which are more dance than circus. They sold out at Jacksons Lane. 
We know you're a fan of Finland. Have you already booked your next trip here?
See you March 23! And I am bringing my girlfriend Kelli this time!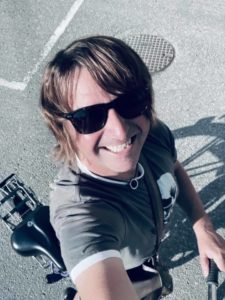 Adrian Berry is the Artistic Director of the UK's leading circus and arts centre, Jacksons Lane. As a venue director and programmer, Adrian has worked with the National Theatre, Stratford Circus, the Albany and Trinity amongst many others. He is a producer, writer and director and wrote and directed the successful production From Ibiza to the Norfolk Broads. He has produced circus work nationally and internationally, as well as representing the UK at circus festivals around the globe.
Nordic Exposure takes place from 5th March to 1st May 2022. Read more about the event > at the Jacksons Lane website.
Interview conducted by Essi Brunberg / Pragma Helsinki.