Lotta Nevalainen has accepted the position of the Acting Managing Director of CircusInfo Finland from the 27th of September 2021 onwards . Nevalainen will also continue as the Head of International Development in addition to her new position.
"For Circusinfo Finland, the autumn brings the launch of two international projects and related open calls. The international work remains very important for us and we will also continue with the domestic projects as planned with Johanna Mäkelä. I trust that the situation of the circus field will brighten up as the corona situation is getting easier – we look forward to seeing live circus again after a long break."
Lotta Vaulo, the long-time Managing Director of CircusInfo Finland started in a new position as the Administrative and Financial Manager of KOM-teatteri in the beginning of October 2021.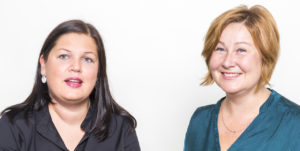 Lotta Nevalainen and Lotta Vaulo.
Photo: Jouko Salminen